PWM Hydraulic system
The "PWM Hydra system" combining electro hydraulic-actuators, with either ZEUS and THOR radio remote controls, allows the conversion of hydraulic manual cranes into radio controlled ones.
The actuator hydraulic circuit is totally independent from the crane hydraulics, hence avoiding oil-sharing problems that can arise due to the presence of dirt in the crane oil compromising the regular working of the actuator pistons.
The power pack works only "on demand", when movements are operated from the transmitter, granting low stress conditions and reducing all energy wastes.
The calibration of every single actuator can be performed via radio directly from the transmitter. The Hydra system kit is comprehensive, and consists of: block of actuators, power pack, wiring between receiver/actuators/power pack, rod clamps, hydraulic pipes.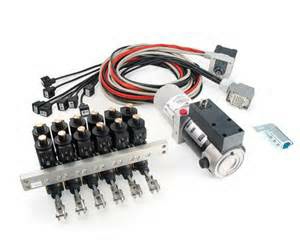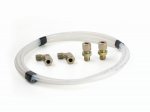 Transmitters for Hydra System
ZEUS M and THOR M transmitters, equipped with single axis joysticks, are particularly suitable for controlling Hydra system.
The biaxial joystick versions can also be used.
Receivers for Hydra System
LDC and HDC receivers are suitable as they feature VDC powering, PWM proportional outputs and IP65 protection for outdoor use.
Comprehensive wiring
A user friendly wiring kit comes ready with each system in order to facilitate all the electrical connections between receiver/actuators/power pack.
A practical key-switch allows the operator to select the operation mode (RC, Off, manual).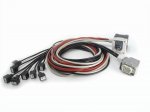 Power Pack
An electro-hydraulic pump that works only "on demand" supplies the oil to the actuators rendering the Hydra system totally independent from the machine oil circuit.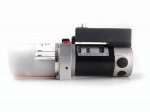 Actuator Block
The modular structure of a block of actuators allows customisation for specific applications. The actuator piston stroke is +/- 13 mm making it suitable for use with the vast majority of the hydraulic distributors on the market. For those special cases demanding a larger rod stroke up to 20 mm, a stroke-extension kit is available. Thanks to dedicated mechanical adapters, it is possible to interface the actuators directly with one side of the manual valve bank (available for Walvoil SD6, SD8, Galtech and Parker). This configuration requires removal of the rods.
Rod Clamps
The actuators transmit the mechanical movement to the rods through clamp on adaptors. No welding required.
Hydraulic Tubes and Pipes
Tubes and pipes are supplied for all hydraulic connections between the actuator block and the power pack.
Optionals and Accessories
The serial cable option (15 m) is available for a wire-connection between transmitter and receiver. The radio modules are thus not active and the transmitter is powered directly from the serial cable. We can supply a by-pass valve when required.