Mixing joysticks for the best ergonomics
ZEUS X is the answer to extreme customization necessities where both single and dual axis joystick types are mixed on the same dashboard in order to control the machine in the best way.
A natural solution for IMET dedicated to that special fields of application demanding the maximum flexibility
(Click on image to enlarge)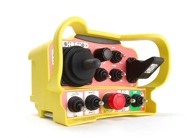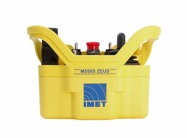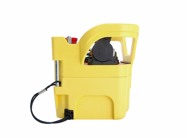 START button:
The command for turning the radio system into working mode. Horn command is activated simultaneously to signal the machine is ready to operate.
STOP button:
The CAT4 (EN 954-1), mushroom head mechanically latching button is protected against falls by a bumper keeping at the same time a maximum easiness of access.
"Contactless" extractable key:
The contactless magnetic key is a standard feature in all radio remote controls. No more metallic keys that rust and are not waterproof.
Materials: synthesis of strength , lightweight and environmental care
IMET's products comply with the directive RoHS (Restriction of Hazardous Substances).
The materials we use are robust, mechanically and thermally stable and resistant to chemically aggressive environments
Extractable rechargeable NiMH
Compared with the previous NiCd batteries, the new NiMH generation grants a larger autonomy together with a negligible "memory effect".
The transmitter is equipped with an easily accessible battery slot that enables its fast replacement maintaining at the same time a perfect sealing against liquids and dust.
Gold plated contacts guarantee a long and stable electrical connection over the years.
Status Led:
All IMET transmitters are equipped with a led providing information about the working status, the battery level and coded messages

IMET single joysticks: for the best Human-Machine Interface
IMET single and dual axis joysticks guarantee a long life and maintenance-free operation providing superb proportional and step control. Operated joystick radiocontrollers will then allow smooth and precise management of critical functions in a variety of industrial applications where a Human-Machine Interface is required.
Available in one or two axis configurations, a choice of different proportional and step models enable the most comprehensive matching of the joystick to your application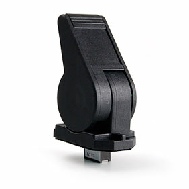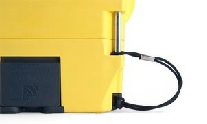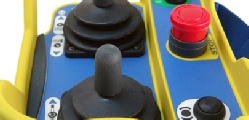 Control panel graphics:
Thanks to modern digital printing, IMET is able to customize the graphics of your transmitter texts and symbols in function to your needs. For example, complex lay outs can be organized with colour coding of groups of functions improving the ease of use and reducing involuntary activations.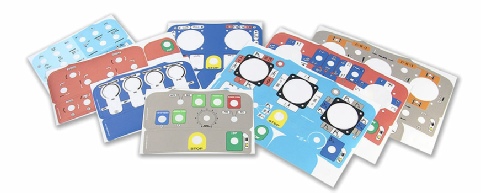 Motion buttons:
All motion commands feature double step push buttons with large print for a comfortable use also wearing gloves and for long work shift. The tags are easily interchangeable and can be chosen among a vast range of standard symbols.